Last night was a good night for Ron Paul. But it was a better night than many might realize.
The desire to accumulate as many delegates as possible has long been the campaign's primary focus. After all, this is how one becomes the nominee. But collecting delegates is not the same thing as winning the straw polls, which obviously make the headlines.
Ron Paul 2012 campaign chairman John Tate explains:
"We are thrilled with the yesterday's results. Our campaign to Restore America continues to gain ground, and we are poised to pick up even more delegates from Minnesota and Colorado adding to our delegates in Iowa, New Hampshire, and Nevada.
"As people across the country view the results of

yesterday's contests, it is important to consider a few facts that have not been clearly reported.

Not one single delegate was awarded yesterday, instead the caucuses in Minnesota and Colorado were the very first step in the delegate selection process. And there are still over 40 states left to go. The Ron Paul campaign plans to continue to vie for delegates nationwide."
Indeed. Below is a pie chart created by a supporter that shows how Paul's straw poll performance measures against collecting delegates in particular Colorado precincts. You will notice in each example, the delegates selected exceed the straw poll results. To say the least: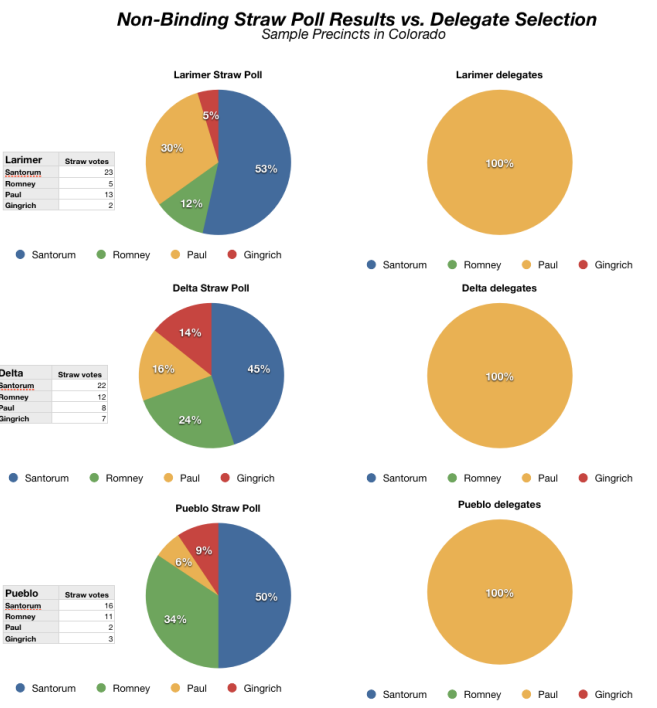 Source: Paulitical Ticker with Jack Hunter